Just been watching 'The Thick Of It' for the first time (someone referred to me as the "Female Malcolm Tucker" at my last job and I only just got round to finding out what that was today) and I may have a brand new crush.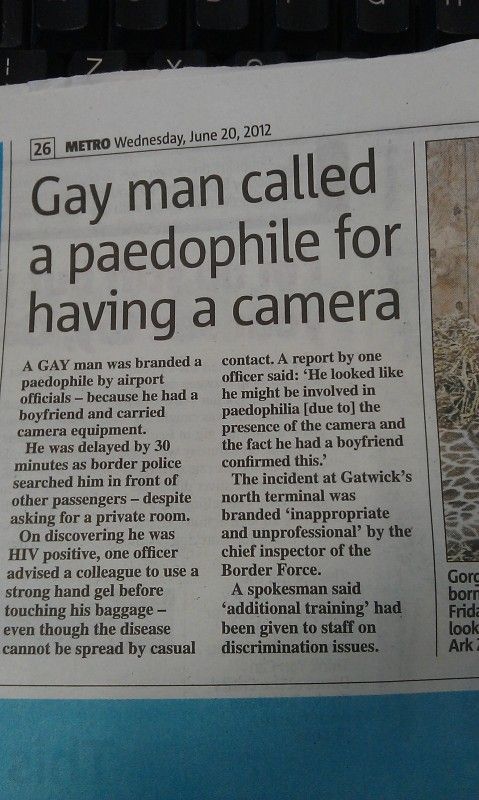 A photo of an article in my morning paper today.
LOKI: WOOOOOOO

NICK FURY: DAMMIT STOP FOGGING UP THE GLASS AND DRAWING PICTURES IN IT

LOKI: THIS IS A PORTRAIT OF YOU

NICK FURY: IT LOOKS LIKE A HOT DOG WITH AN EYEPATCH

LOKI: EXACTLY.

NICK FURY: I'M GOING TO RUN OUT OF WINDEX YOU TWATMUFFIN

LOKI: *MOUTH ON GLASS*…
Deleted scene from the Avengers film: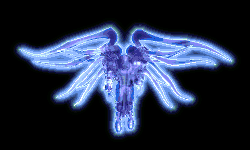 Normal service will be resumed once I get both games finished :)
Between Mass Effect 3 and Diablo 3...well I've not got much writing done!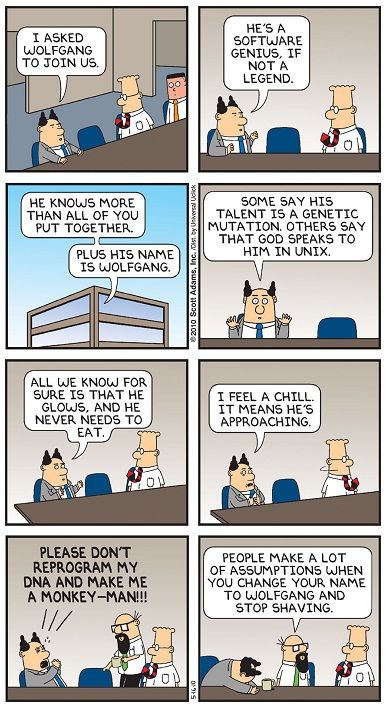 Top Gear/Dilbert crossover anyone? :)
someone got there first
.
So I am going to say that I think it's a classic example of 'leave brain in neutral' (zone?) and I think it's awesome that Wil Wheaton has seen it.
Needed a better cover though. Surely it wouldn't have taken someone 10 seconds to put a 'shopped version of a Holodeck sex party together? Heck, such a thing probably exists on a few thousand hard drives anyway..
I was going to do an in-depth review of this - but
childfree
would be off the list.
No
. Here we have a moron descending on high to tell us poor misguided women that birth control isn't essential (unlike Viagra) because pregnancy is 'natural' and if
we can't afford it we should jolly well keep our legs shut
.
(Unlocked post but don't troll it)
It has been a very long time since I engaged in a battle of words with a dicksplat, I'm hoping I managed to do okay this time. I didn't once call them the names that were going round my head......
Of all the communities to start throwing around the old "if you don't want babies then don't have sex!" idiom, you'd think a place like
I sorted them out earlier and here is the inventory (complete with my notes)
Bottles
Clemence
(Carnaval Diabolique)
- My mother loves this one, very light vanilla and smooth leather
Inez
(Carnaval Diabolique)
-
Sugary rum on a wet day, I quite like this one
The Parliment of Monsters
(Carnaval Diabolique)
-
Heavy books, leather, wood. Can only wear a tiny bit of this else it's too headachy. Do like it though
Nuclear Winter
(2005 Yule LE)
-
Cold wet steel. Brought this one for the name alone, when I wear it I smell like I've been working on the car :p
Midnight Mass
(2011 Yule LE)
-
Lovely deep incense. Kind of Nag Champa-style smell. I get compliments every time I wear it :)
Moon of Horses
(June 2011 LE)
-
Can't place this one, it's a really confusing sweet and sour smell. Not one of my favourites.
Feeding the Dead
(Halloween 2009 LE)
-
Very strong sugar candy smell with a bit of musk in it. Smells wrong on me.
Kytherian
(2011 Ode to Aphrodite)
-
Tiny flowers blooming at midnight is the best way I can describe this. I really like this one.
Cthulhu -
Dank, wet seaweed. Unfortunately tends to smell like bog cleaner on me, I bought it just for the name anyway :)
Tombeur -
My second favourite. It reminds me of an RPG setting actually - aged, exciting and a bit unusual. It's another musky scent, I prefer those.
Old Sybaris -
Whisky, spices and roses. Another confusing one but this one I can actually wear as it evens out on the skin.
Nemesis -
My all time favourite. A wicked, cunning smell that one of my friends said put her in mind of "a really filthy sex novel". Mwahaha.
Wanda -
Blood, leather and wine. A very dominant scent this one and I really have to be in the right mood to wear it (naughty grin)
Sacred Whore of Babylon -
Very deep musky smell with just a bit of floral in it. Good wintertime perfume for me :)
Centzon Totochtin -
Chocolate and spices and general loveliness! Adore this one and often wear it if I'm doing something creative.
Tezcatlipoca -
Slighty more toned-down version of the one above.
Crossroads -
Dried flowers and soil. I like earthy scents
Tintagel -
First BPAL scent I ever got and now on my 2nd bottle of it. Mead, fruits, spices and a tiny bit of wood smoke.
Salome -
This smells how Chai tea tastes. It's a lovely spicy one :)
Yorick -
Pure smell of wet soil. I'm very fond of this one.
Whoso List to Hunt -
Reminds me of my Nanna's house. Lots of books surrounded by all the flowers she used to grow.
#20 Love Oil -
Smells like industrial effluent to me, I really hate this one.
I'll list the Imps later as that is a much longer list :)
What started out as a sample bottle obtained from a friend, has grown into something that needs its own shelf in the house!


"I don't get you guys at all. Here is the supposed land of culture and upper class behavior and you introduce your friends to other people as "that's Dave, he's a right twat". Your FRIENDS! What on earth do you say to people you don't like??"

Ahh, then we're overly polite to them :p
Trying to explain differences in English and American culture to a friend of mine (stateside) last night and she came out with an absolute blinder: